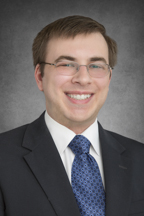 Jared T. Anderson, a native of Maryville, Tennessee, practices law in the areas of Wills, Trusts, Powers of Attorney, Estate Administration, and Conservatorships.
After graduating from Maryville High School, he earned a Bachelor of Arts degree from Vanderbilt University, majoring in political science, with minors in Corporate Strategy and Leadership & Organizations.
Mr. Anderson received his law degree from the Emory University School of Law, where he focused his coursework on tax law and business law, earning a Certificate in Transactional Law and Skills. While at Emory, he received a Dean's Award for Excellence in Contracts and achieved recognition on the Dean's List.
Before founding his own firm in Blount County, Mr. Anderson practiced law in a prominent Knoxville estate planning firm.
Education:
Emory University, Juris Doctor
Emory University, Transactional Law Certificate
Vanderbilt University, Bachelor of Arts (Political Science)
Community Involvement:
Kiwanis Club of Alcoa
Compassion Counseling (Board of Directors)
East Tennessee Foundation Blount County Affiliate Fund (Advisory Board)